Rocket City Chorus is proud to have the following quartets associated with our chorus. We endorse all of them as excellent singers and entertainers, suitable for any occasion...
---
The Rocketeers
The Rocketeers registered as a quartet with the Barbershop Harmony Society in August 2006. With all members working on Redstone Arsenal, and Huntsville being "The Rocket City", the Rocketeers was the final choice of quartet names.
Through their short history together the Rocketeers have performed at various events to include Decatur Civic Chorus 2007 production of the Music Man and a couple of shows presented by Decatur Civic Chorus, singing the National Anthem for the Huntsville Stars home games, Patriot's Day ceremonies on Redstone Arsenal, Veteran's Day Parade, Huntsville's Memorial Day 2017 ceremony at Veteran's Park, Panoply Arts Festival, Huntsville's Concerts in the Park, Madison's Gazebo concert series, Decatur's Concert by the River series, Athens's Concerts on the Square series, Huntsville's Sidewalk Arts Stroll 2013, Huntsville Women's and Children's Hospital Children's Ward, various nursing homes and assisted living centers, several local high schools, North Alabama Hospice, several local churches, and private parties.
The Rocketeers also auditioned for Huntsville's Home Grown Talent contest and was selected as a finalist. Their motto is "Keep the Whole World Singing" and are dedicated toward the preservation of the Barbershop Quartet Singing art form with lightheartedness and joy. We try not to take ourselves too seriously and just enjoy everything for what it is. Contact AD Barksdale at
abarksdale@pclnet.net
or Jim Savage at
james.savage594@att.net
for availability of the quartet.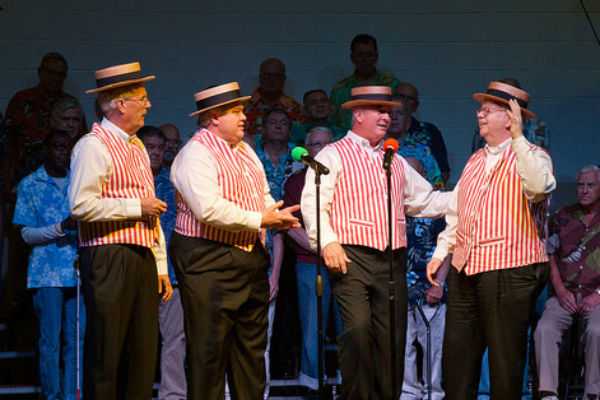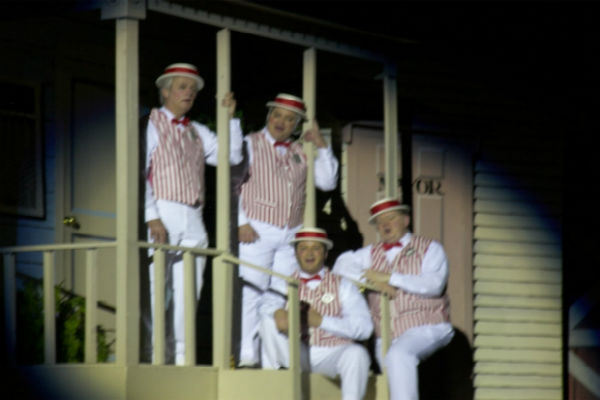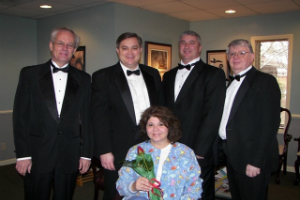 The Rocketeers members...
Web site:
rocketeersquartet.com
General public contact:
256-653-4830
Area of operation:
Huntsville and North Alabama
State:
Alabama
---
Audio Radiance
Available for bookings. Contact Jerry Wilhoite, Quartet Manager.
Audio Radiance has been singing for over a decade. New members to the quartet are Marc on lead and David on tenor. JD and Jerry have been singing barbershop for decades. The guys enjoy singing at chapter events, parties, Barbershop Quartet Competitions, Christmas events, and visiting hospitals. Enjoy the sound of tight, barbershop harmony and let Audio Radiance sing at your next event.
How did we get the name "Audio Radiance?" A DJ made a mistake in pronouncing a phrase, one of our guys heard it and thought it would make a good name for a quartet.
Audio Radiance competed at the Dixie District Fall 2018 Contest. We sang "Blue Velvet" and "Nobody Knows What A Red Headed Mama Can Do", both were fun songs to sing. We are already preparing for the Dixie District Fall 2019 Contest. Come see us perform at the Rocket City Chorus's Summer Show Tunes Show.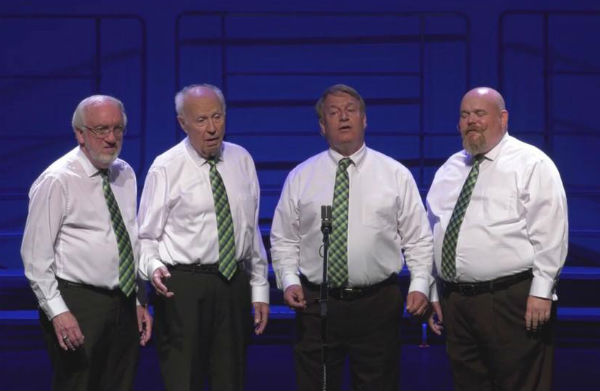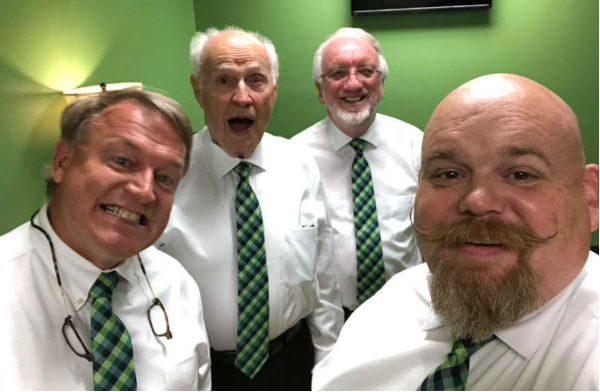 Audio Radiance members...
General public contact:
256-690-3250
Area of operation:
Huntsville and North Alabama
State:
Alabama

---
Eight Feet Wide

Eight Feet Wide Quartet started in May of 2019. They are available for bookings in Huntsville, Madison, and all of North Alabama. They came up with their name from how many feet are on the stage when a barbershop quartet is performing, eight feet.
Eight Feet Wide members...
General public contact:
Mel White

256-605-0390
Area of operation:
Huntsville and North Alabama
State:
Alabama
---